When it comes to the best gaming mouse to dominate your opponents, it's not just specced like DPI and number of customizable buttons that matter.
Cable clutter can easily get in your way to degrade you're performing and annoy the heck out of you in the heat of the battle.
Best Wireless Gaming Mouse in 2018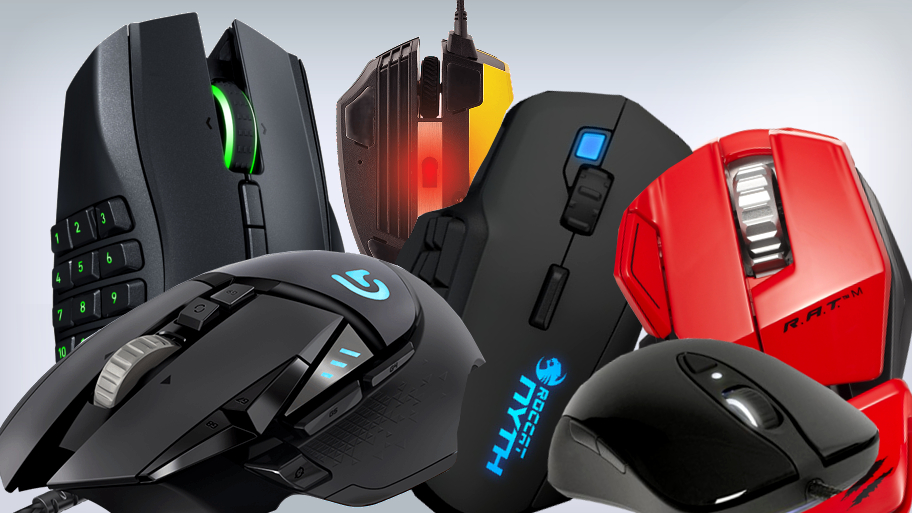 The biggest advantage of a wireless gaming mouse is freedom of movement and an attractive, clutter-free gaming environment.
With that said, here are my top picks for the best wireless gaming mice in 2018.
1- G602 Lag-Free Wireless Gaming Mouse
The Logitech G602 weighing 107 grams gives you 250 hours of non-stop gaming. Powered by 2 AA batteries, a cool aspect of the G602 is the central button which switches between Performance to Endurance mode.
This gives you 1440 hours of battery life. The mouse has a max speed of up to 80 inches/sec, with different thumb buttons for custom control.
This is an ergonomic mouse for right-handers with a jutting wing for thumb support. It is energy efficient with Delta Zero technology, which is very effective in saving power.
It connects to the PC through Logitech's G-Series Receiver, offering the convenience of wireless connectivity without lag. It comes with 11 programmable buttons and image resolution of 250-2500 DPI.

Pros


Reliable tracking
Thumb buttons for custom control
Energy Efficient
Preference saving mode

Cons


Low DPI - 250 - 2500
Only Windows-supported software
2- VicTsing 7-Button Wireless Gaming Mouse
Compatible with Windows, Linux, and Mac, this wireless mouse comes with up to 15 months of battery life, which means you scarcely need to change batteries.
The buttons aren't reprogrammable, but the thumb buttons let you go back and forward when browsing sites, and the DPI is controlled by 2 center buttons. Also, the Auto Switch 'Off' function saves energy as the mouse switches off when your PC is turned off.
Check Price | Availability
There is a backlit color which will change according to the DPI level. The LED indicator light flashes while setting the DPI.
There are 5 DPI Levels - 2400, 2000, 1600, 1200, 800 to change the moving speed based on your needs for gaming and office. The 2.4G wireless technology supports 10 meters transmission range.

Pros


7 Button mouse with thumb rest
Adaptable DPI from 800 to 4800

Cons


Some users report the mouse freezing during gaming.
3- Logitech G903 LIGHTSPEED Gaming Mouse
Logitech's G903 is a lightweight, customizable wireless mouse. It has excellent software as well as a comfy design suited for claw- or palm gripping.
The software allows you to tune the mouse movement to different surfaces. I love the mouse's futuristic look, plus 2 small buttons can easily lower or raise the mouse DPI settings.
Check Price | Availability - Amazon
At only 110 grams, the G903 comes with several glowing RGB lights - the G logo on the back and 3 small battery level lights in the center. It stores per-game profiles that can automatically change your mouse settings when you start the game.
This is an ambidextrous mouse, and you can also set up to 5 DPI levels - from 200 to 12,000. It comes with the means to wirelessly charge through a specialized mouse pad, allowing the G903 to have a constant current of electricity to its batteries.

Pros


Solidly built and feels good in the hand
Unique wireless charging technology

Cons


Ridiculously expensive
Its ambidextrous shape isn't particularly ergonomic
4- ShiRui N6 Wireless Rechargeable Gaming Mouse
This wireless gaming mouse comes uses advanced 2.4GHz wireless technology to provide a stable connection to the computer.
The range is a generous 15 meters. The mouse changes colors to 7 color schemes, and when it goes into sleep mode, the led lights turn off automatically.
Not Available - Amazon
The mouse has 3 DPI modes – 800-1200-1600, with 7 buttons including the DPI button. With its ergonomic design to reduce hand fatigue, the mouse also comes with longer battery life, with the built-in 600MA Lithium battery capable of being recharged about 500 times.

Pros


Longer battery life which can be recharged about 500 times
Ergonomic design reduces hand fatigue

Cons


Some people complain about the clicking noise of the back/forth button.


5- E-Blue Mazer Type-R DPI Wireless Gaming Mouse
Designed with an Air Wing theme design, this wireless gaming mouse with its ergonomic design suits right-handed game players. With a scrolling wheel and rubber texture as well as rubberized foot pads, the mouse feels very comfortable to the touch.
Check Price | Availability
The mouse has 4 different DPI settings, and these are adjustable by way of DPI buttons on the mouse. It has 6 buttons - 5 Programmable Buttons and 1 DPI Adjustment Button.
No operational discrepancies with 2.4 GHz wireless transmission. It can receive signals from 30 ft. radius.

Pros


DPI switch that adjusts between 500 / 1200 / 1800 / 2500
Durable micro switch rated for 5 million clicks

Cons


Just one blue LED light, eliminating the ability to set different colors for different DPI settings.
Serious or Casual Gamer?
The mouse and keyboard are the two most important components in every gamer's arsenal.
If you're a casual gamer where your mouse will also be used heavily for other tasks such as spreadsheets, internet browsing, and photo editing, a
good ergonomic mouse
is probably your best option for your health and comfort in the long term.
If you are a serious gamer, however, the most important things to look for in a mouse are adjustable and
fast DPI
, lots of customizable buttons, and depending on your workstation setup, a wireless design such as the ones reviewed above. Happy Gaming!